Product Key Explorer is the best product key finder software for recovering and finding product keys to over +10000 programs: Windows 10, Windows 8.1, Windows 8, Windows 7, Windows XP, Microsoft Office, Adobe CS6, CS5, CS4, CS3, Acronis products, Electronic Arts games, WinZip, Nero and more...

Price:

29.50$
| | | | | | | | | | | | | | |
| --- | --- | --- | --- | --- | --- | --- | --- | --- | --- | --- | --- | --- | --- |
| | Overview | | | Features | | | Screencast | | | FAQ | | | Pricing | | | | |
How to Use Product Key Explorer :

Product Key Explorer has a user friendly interface and you should just press "Find Keys"? button to retrieve license keys from your local machine. If you want to recover license keys from remote computers, choose appropriate "Authorization Mode"? and enter your Admin user name and password, then press "Select Computer"? button and in "Host Range Selection Dialog"? select appropriate mode:
1. "Local Computer"? mode for recovering product keys from your local machine
2. "IP Range"? mode for retrieving serial numbers from network computers (enter start/end IP Addresses)
3. "IP Address List"? mode for retrieving license keys from appropriate network computers ( provide path to .txt file that contains IP Address or Computer Name in every line).
After press "ok" button to close "Host Range Selection Dialog"? and press "Find Keys"? button to start product key scan and recovery process.
Requirements for "Product Key Explorer"? remote audit:

1. "Client for Microsoft Networks" should be enabled on your and on remote computer
2. "Remote Registry" service should be enabled on remote computer
3. You should have remote computer registry access rights
4. You should have administrative privileges on the remote computer and C$ administrative share should be enabled for retrieving some products Registration Information ( Adobe CS5, CS3 & CS4, QuickBooks and more ).
5. Firewall on remote computer should be turned off or configured appropriately to allow your access. If you have firewall program running on remote computer, turn off it or use firewall program manuals to configure it appropriately to get remote access from your computer.
If you use the Windows firewall,you should go to 'Allow Programs'/Exceptions section and verify that the 'File And Printer Sharing' option is checked.'
You should configure firewall to accept incoming TCP/UDP packets with ports 135-139
6.On Windows XP Network security and sharing should mode be changed to classic mode ( Control Panel -> Administrative Tools -> 'Local Security Settings', and under Local Policies->Security Options, find the option of 'Network and security model for local accounts' and change it to classic mode ). You can change the following Registry value to get the same effect:
[HKEY_LOCAL_MACHINE\SYSTEM\CurrentControlSet\Control\Lsa]
"forceguest"=dword:00000000
7.Turn off the Remote User Account Control in Windows Vista and Windows 7. UAC ( User Account Control ) component of Windows 7/Vista doesn't allow to get administrator access on a remote machine. In order to turn off this restriction, you should set the following Registry value:
[HKEY_LOCAL_MACHINE\SOFTWARE\Microsoft\Windows\CurrentVersion\Policies\System]
"LocalAccountTokenFilterPolicy"=dword:00000001
More information about User Account Control and remote restrictions available ››
Here
Frequently Asked Questions (FAQ)

What is the difference between the trial version and the full version?
Product Key Explorer is free to try 15 days, the trial version allows to see retrieved products and if it is possible to recover you product key instead of real serial number it shows first 4 digits of product key.
What is the difference between a multi-user and single-user license?
A single-user license includes a key for each copy Orderingd. A multi-user license includes one key with permissions to install the software on multiple workstations.
By purchasing a multi-user license for Nsasoft products, you can use our products with as many of your co-workers and team as you choose. Licenses are priced using a graduated pricing structure with up to 87% discount: The more licenses you Ordering, the larger the volume discount you get. You can Order Multi-User License Here ››
What does "per user" mean?
One user may install and use one copy of the software product on a single computer at a time and only by one user at a time.
How about support?
We stand behind our products and value our customers. We offer Free Unlimited Email Support. You may email our knowledgeable support staff as often as needed to ensure that our software works well for you. All our products come with unlimited email support. If you have questions not answered in this FAQ, contact support ›› Here
How about new versions?
We are committed to further development of our software. We regularly release new versions with bug fixes, improved functionality, and increased performance. We provide Free Lifetime Upgrades for all our registered users. New versions of our products can always be downloaded from our website. Your current registration number will continue to work with new versions.
How safe is my online Ordering?
All transactions are handled by a trusted third-party payment intermediary iPortis.com LLC. ( Apex, NC USA, Tel: 1-888-543-4647 ). iPortis.com LLC. uses the highest level of encryption throughout the entire order process and credit card processing. All transaction and credit card information is guaranteed to be safe and not passed on to any third party. Note the 'https' which indicates that our trusted transaction company is using at least the industry's standard Secure Sockets Layer ( SSL ) technology.
All transactions are Guaranteed to be 100% Secure

How do I know this program is a legit program and not contains a virus or trojan?
Nsasoft is a trusted company, all our programs are virus or trojan free and signed with Nsasoft digital signature. To see it just download any program from our web site, right click on executable file and from pop-up menu choose "Properties"? menu item. Then in an opened dialog select "Digital Signatures"? Tab and press "View Certificate"? button. You can use free online virus scanner to check our products and files.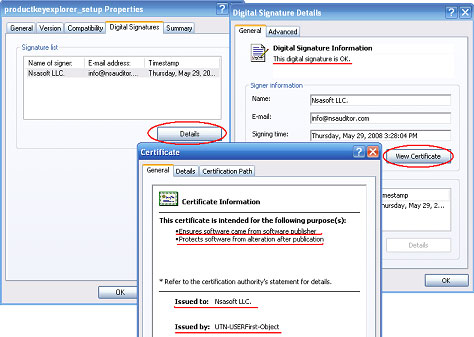 I lost my registration key...

What to do now?

Please send an email to support containing as much relevant information as possible:
• Product it concerns.
• (Approximate) date of Ordering.
• Your name.
• Company name (if applicable).
• Email address at the time of Ordering. If you are not sure, please list all addresses you could have used.
Your product does 90% of what we need, but ...
You can make a feature request by sending us an email. If it would be an enhancement to all our customers, we will add it to the product.
How can I scan a remote Windows Vista or Windows 7 Machine?
Please check if "Remote Registry" service is enabled and running on remote computer, by default this service is stopped on Vista machines.
How to Find Windows 7 product key?
Product Key Explorer allows to find Windows 7 product key. "Product Key Explorer" is easy to use software. You should install the software and press "Find Keys" button to retrieve license key.
How to run Product Key Explorer from Command Line?
You can run Product Key Explorer from Command Line using following options:

/remote [Computer IP]
Retrieve product keys from the specified computer
/remote [From IP]-[To IP]
Retrieve product keys from computers in the specified IP addresses range
/iplist [Computer IP or Names File Path]
Retrieve product keys from all IP addresses specified in the file
/u [Admin User Name]
Administrator User Name
/p [Admin Password]
Administrator Password
/r
Covert IP addresses to Computer Names
/f [File Name To Save]
Save retrieved product keys to file .txt, .csv, .xls, .mdb, .html, .xml
/exit
Exit "Product Key Explorer" after retrieving product keys

Examples:

/remote 127.0.0.1 /f backup.xls /exit
/remote 192.168.0.1-192.168.0.255 /u admin /p pwd /r /f out.html /exit
/remote 192.168.0.24-192.168.0.26 /f "C:\Backup\backup.html" /exit
/remote 192.168.0.26 /u admin /p pwd /f out.xml /exit
/iplist "C:\Backup\iplist.txt" /r /f "C:\Backup\backup.mdb" /exit

How can I run "Product Key Explorer" on my server remotely from other network machine?

You can run "Product Key Explorer" remotely with command line options using Nsauditor "NetTaskExec" tool. Schedule service must be running on your Windows server to use "NetTaskExec" tool. You can download and get more information about Nsauditor "NetTaskExec" tool at http://www.nsauditor.com/network_security/network_security_auditor.html
You can uncheck NetTaskExec "Interact with User" option to hide "Product Key Explorer". Bellow is an example of "NetTaskExec" tool command:
"C:\Program Files\Nsasoft\ProductKeyExplorer\ProductKeyExplorer.exe" /iplist "C:\iplist.txt" /r /f "C:\backup.mdb" /exit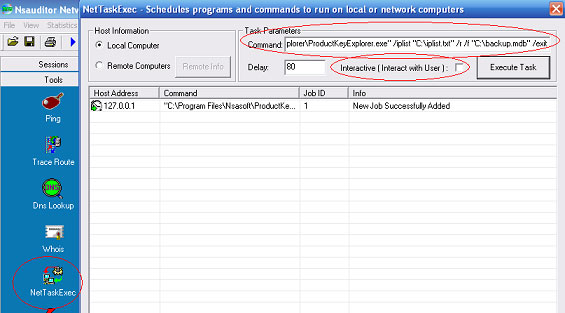 How to backup product key list?

You can recover your product keys, backup to Registry File (.reg), save as Tab Delimited Txt File (.txt), CSV Comma Delimited (.csv), Excel Workbook (.xls), Access Database (.mdb), Web Page (.html) or XML Data (.xml) file, print key list or copy all to clipboard. Just right click to key list and choose appropriate option. Please note: the trial version doesn't allow backup or print product key list.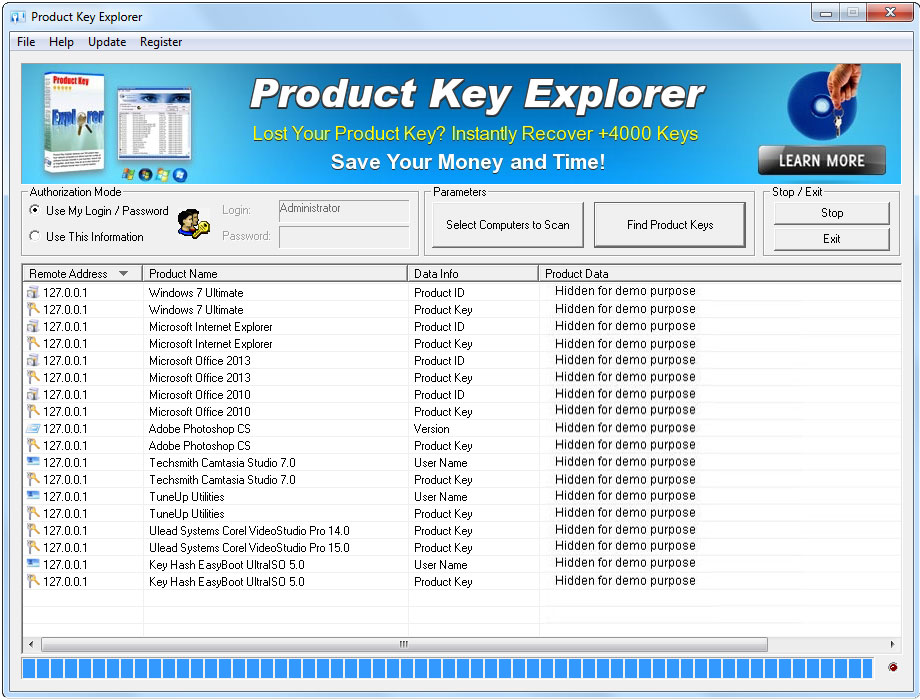 How To Find and Backup Product Serial Keys in Corporate Network?

With
Product Key Explorer
you can instantly find product key and serial number for Microsoft Office 2010, Microsoft Office 2007 and Microsoft Office 2003, recover product key for Windows 8, Windows 7, Windows Vista and Windows XP, Adobe CS5, CS4 and Adobe CS3 product key, Norton product key, Electronic Arts games, WinZip, Nero and more than 4800+ other programs serial numbers. Product key finder software retrieves serial keys from network computers and allows track the number of software licenses installed in your business. Click on the Product Key Explorer download link below for a free scan, find your software product key and backup it in case of computer repair or upgrade.

After selecting "Save To File"? menu item you can choose different formats to save your data, this option available only in registered versions.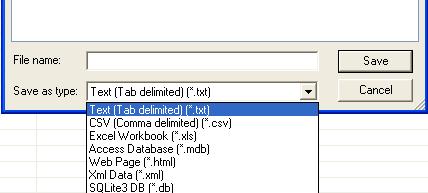 How To Find my game product key?

You can retrieve your game serial key with
Game Product Key Finder - Recover Game Software Product Keys
, the program can help you to find product keys for: Dungeon Siege 2, Age of Empires 3, Halo ( Halo 2), Flight Simulator, Rise Of Nations, Age of Mythology, MechWarrior Mercenaries, Sims 2, Battlefield, FIFA, NHL, Black and White, Battlefield Vietnam, Shogun Total War - Warlord Edition, Medal of Honor, Nascar Racing, Global Operations, Freedom Force, SimCity 4 Deluxe, James Bond 007 Nightfire, Dangerous, Dawn of War - Dark Crusade, Medieval II Total War, Call of Duty 2, Company of Heroes, Splinter Cell - Chaos Theory, Eugen Systems The Gladiators, Tiberian, Red Alert, Counter-Strike, Gunman Chronicles, Half-Life, Hidden & Dangerous 2, Industry Giant 2, Legends of Might and Magic, Soldiers Of Anarchy, Covert Strike, Rainbow Six III RavenShield, Pro Evolution Soccer 6, Stalker, Stardock Galactic Civilizations II and more...
Customer Feedback - From Our Mailbox

"Thanks for developing such a cool and stable utility! It runs perfect on my XP Pro system that I use for various IT Admin tasks."
Terrance Fontes
"Thank you again, I got the product installed and used the reg-update you suggested. Great work, guys! Thanks!"
Nick Bennett
Desktop Administrator
"Your product key finder software is just brilliant. I have replaced my magical jelly bean keyfinder software with Product Key Explorer and I have retrieved license keys from all my network computers."
Davic Crac
"I really enjoy the software, it is going to help us out in an audit we have coming up"
Greg Johnston
IT Administrator
"I have run a scan on my network using Product Key Explorer and am happy with the results"
Matthew Greig
"I am using the Product Key Explorer and am impressed with its capabilities"
Greg Simpson
"Your software Product Key Explorer has been awarded by our editors Great job, we're really impressed!
rbytes.net staff
"Thank you for your software. Using it we were able to resolve our problem"
Ryan Dech