September 13
, 2012 (Nsasoft)
-- Nsasoft has released
SpotAuditor
password recovery software
version
4.4.1
, the new version updates password recovery feature.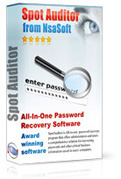 SpotAuditor recovers more than 40 software passwords, including Internet Explorer passwords, Firefox and Opera browser passwords, Outlook Express passwords, MSN messenger, Windows Live Messenger, Windows Messenger, Google Talk ( GTalk ), Google Desktop, ICQ, VNC, Dial up, RAS, VPN, Trillian, Miranda IM, &RQ, Camfrog Video Chat, Easy Web Cam, RDP, WinProxy, Total Commander (Windows Commander), Far ftp client, IpSwitch IM server, IMail server, WS_FTP, CuteFTP, File Zilla, SmartFTP, FlashFXP ftp client, SecureFX ftp client, WebDrive ftp, FTP Voyager, CoreFTP, CoffeeCup Direct FTP, AutoFTP, FTP Control, FTP Navigator, FFFTP, 32bit FTP, DeluxeFtp, Internet Download Manager passwords and reveals IE Auto Complete Fields saved passwords, recovers passwords stored behind the asterisks (*****). The program also explores Visited URLs, Installed Programs and Start Run Programs on a local machine or remote computers.
SpotAuditor allows deletion of unwanted entries from the system protected storage. The program also explores Outlook accounts, Visited URLs, Installed Programs and Start Run Programs on a local machine or remote computers.
You can recover and restore any lost or forgotten password ever entered in Internet Explorer. Many applications under Windows system allow a convenient storage of frequently used passwords. The typed password is not displayed on the screen, and instead of the real password, you see a sequence of asterisk (*****) characters. SpotAuditor asterisk password uncover utility can reveal the passwords stored behind the asterisks in password text-boxes.
A single SpotAuditor license costs $29.50, and may be Orderingd securely online at http://www.nsauditor.com/order.html
Free 15 days demo versions are available.
For more information please visit SpotAuditor home page http://spotauditor.nsauditor.com
Application Screenshot: http://spotauditor.nsauditor.com/image/spotauditor.jpg
Download URL: http://spotauditor.nsauditor.com/downloads/spotauditor_setup.exe
Pricing & Availability
SpotAuditor runs under Windows 7, 2000, XP, 2003, Vista. The product costs $29.50(US) for a single-user license and available immediately through the Nsasoft store and its authorized resellers worldwide. Licensed users get free lifetime updates and premium technical support. More information is available from www.nsauditor.com
About
NsaSoft US, LLC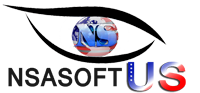 NsaSoft US LLC
was founded by a group of experienced network and security professionals with management of Mr. Varuzhan Kankanyan, a network and system engineer with more than 30 years of experience in the security research and development, telecommunications systems and networking fields. All the founders actively participate in engineering, production and marketing of our products. We are growing rapidly thus involving more and more talented people in our projects, generating new ideas, supporting existing products. We are building the company on a set of core values, and we are always looking for people who share our values and believe in our mission. NsaSoft US LLC. is a privately owned software company headquartered in Las Vegas, USA, specializing in network diagnostic and monitoring applications for businesses and end users. Today its products and custom solutions may be found in businesses all over the world, including a large number of Fortune 500 companies, as well as in thousands of smaller ventures.