Remote Password Recovery is a remote computers password auditing program
June 16, 2012 - Nsasoft release Remote Password Recovery 1.0.7 is a remote computers password auditing program.

Remote Password Recovery is a remote computers password auditing program and security test tool, it retrieves passwords for software products saved on local or remote network computers. The software recovers Internet Download Manager, FFFTP, FileZilla, WinProxy, FAR ftp, Easy Web Cam, Web Drive, Core FTP, Ipswitch IMail, Ipswitch Messenger, Ipswitch Messenger Server passwords. With this software you will be able to find and recover a lost or forgotten passwords, save and keep an up-to-date backup of all your software passwords in a central location. Remote Password Recovery retrieves passwords from network computers and helps network administrators to examine the security of their networks by executing an audit of saved software passwords. By exposing insecure passwords, Remote Password Recovery demonstrates how secure a network is under remote password stealth attack. Remote Password Recovery is a must have tool for network administrators and designed for corporate network password audit.
You can save retrieved passwords as Tab Delimited Txt File (.txt), Excel Workbook (.xls), CSV Comma Delimited (.csv), Access Database (.mdb), Web Page (.html) or XML Data (.xml) file, Print or Copy to Clipboard.
Download URL: http://www.remote-password-recovery.com/downloads/rempwd_setup.exe
Product Page: http://www.remote-password-recovery.com
About
NsaSoft US, LLC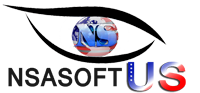 NsaSoft US LLC
was founded by a group of experienced network and security professionals with management of Mr. Varuzhan Kankanyan, a network and system engineer with more than 30 years of experience in the security research and development, telecommunications systems and networking fields. All the founders actively participate in engineering, production and marketing of our products. We are growing rapidly thus involving more and more talented people in our projects, generating new ideas, supporting existing products. We are building the company on a set of core values, and we are always looking for people who share our values and believe in our mission. NsaSoft US LLC. is a privately owned software company headquartered in Las Vegas, USA, specializing in network diagnostic and monitoring applications for businesses and end users. Today its products and custom solutions may be found in businesses all over the world, including a large number of Fortune 500 companies, as well as in thousands of smaller ventures. Nsasoft is a leading provider of Network Information and Security Utilities.