NsaSoft
announces the release of the
Nsauditor Network Security Auditor 2.5.2
, the Latest Version of its Popular Network Security Audit and Network Monitoring software.
November 25, 2012 (Nsasoft) -- Nsauditor Version 2.5.2 adds latest network security vulnerabilities detection and updates network databases. Nsauditor contains a built-in database of known network security vulnerabilities, which allows you to select the items for scanning and add custom entries. With Nsauditor Network Security Auditor, Systems Administrators are able to gather a wide range of information from all the computers in the network without installing server-side applications on these computers. It is a multi-purpose tool designed to scan networks and hosts for vulnerabilities, and to provide security alerts. Nsauditor is a complete networking utilities package (more than 45 network tools in one) that includes a wide range of tools for network auditing, scanning and monitoring.
Nsauditor Network Security Auditor significantly reduces the total cost of network management in enterprise environments by enabling IT personnel to audit and monitor remote network computers for possible vulnerabilities. The software network auditor module checks network for all potential methods that a hacker might use to attack it, discovers network services and checks them for vulnerabilities.
Nsauditor Network Monitoring module shows you detailed listings of all TCP and UDP endpoints on your system, including the owning process name, remote address and state of TCP connections, country of origin and service name/description. When you start Nsauditor it will enumerate all active TCP and UDP endpoints, resolving all IP addresses to their domain name versions. You can close established TCP/IP connections by right-clicking on a connection and/or request IP address whois information or trace route.
Nsauditor "Adware Scanner" tool scans network computers for common Adware traces. Adware Scanner searches system registry and gives you a quick look at the Adware, malware and spyware installed on your computer or in the range of network computers. Using colored icons Adware Scanner shows harmful objects.
Nsauditor performs event log based intrusion detection, monitors the security event logs of Windows 2000/XP/2003 servers or workstations and notifies of the possible intrusions/attacks by using E-mail, Net Send, Speech Recognition method or by playing user selected voice file.
In summary, Nsauditor Network Security Auditor is a very complete network tools package for a surprisingly low price.
Application Info: http://www.nsauditor.com/network_security/network_security_auditor.html
Download URL: http://www.nsauditor.com/downloads/nsauditor_setup.exe
About
NsaSoft US, LLC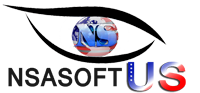 NsaSoft US LLC
was founded by a group of experienced network and security professionals with management of Mr. Varuzhan Kankanyan, a network and system engineer with more than 30 years of experience in the security research and development, telecommunications systems and networking fields. All the founders actively participate in engineering, production and marketing of our products. We are growing rapidly thus involving more and more talented people in our projects, generating new ideas, supporting existing products. We are building the company on a set of core values, and we are always looking for people who share our values and believe in our mission. NsaSoft US LLC. is a privately owned software company headquartered in Las Vegas, USA, specializing in network diagnostic and monitoring applications for businesses and end users. Today its products and custom solutions may be found in businesses all over the world, including a large number of Fortune 500 companies, as well as in thousands of smaller ventures. Nsasoft is a leading provider of Network Information and Security Utilities.