Network Security Auditing and Vulnerabilities Scanner
NsaSoft
announces the release of the
Nsauditor Network Security Auditor 2.4.3
, the Latest Version of its Popular Network Security Audit and Network Monitoring software.
July 12, 2012 (Nsasoft) -- Nsauditor Version 2.4.3 adds latest network security vulnerabilities detection and updates network databases. Nsauditor contains a built-in database of known network security vulnerabilities, which allows you to select the items for scanning and add custom entries. With Nsauditor Network Security Auditor, Systems Administrators are able to gather a wide range of information from all the computers in the network without installing server-side applications on these computers. It is a multi-purpose tool designed to scan networks and hosts for vulnerabilities, and to provide security alerts. Nsauditor is a complete networking utilities package (more than 45 network tools in one) that includes a wide range of tools for network auditing, scanning and monitoring.
Nsauditor Network Security Auditor significantly reduces the total cost of network management in enterprise environments by enabling IT personnel to audit and monitor remote network computers for possible vulnerabilities. The software network auditor module checks network for all potential methods that a hacker might use to attack it, discovers network services and checks them for vulnerabilities.
Nsauditor Network Monitoring module shows you detailed listings of all TCP and UDP endpoints on your system, including the owning process name, remote address and state of TCP connections, country of origin and service name/description. When you start Nsauditor it will enumerate all active TCP and UDP endpoints, resolving all IP addresses to their domain name versions. You can close established TCP/IP connections by right-clicking on a connection and/or request IP address whois information or trace route.
Nsauditor "Adware Scanner" tool scans network computers for common Adware traces. Adware Scanner searches system registry and gives you a quick look at the Adware, malware and spyware installed on your computer or in the range of network computers. Using colored icons Adware Scanner shows harmful objects.
Nsauditor performs event log based intrusion detection, monitors the security event logs of Windows 2000/XP/2003 servers or workstations and notifies of the possible intrusions/attacks by using E-mail, Net Send, Speech Recognition method or by playing user selected voice file.
In summary, Nsauditor Network Security Auditor is a very complete network tools package for a surprisingly low price.
Application Info: http://www.nsauditor.com/network_security/network_security_auditor.html
Download URL: http://www.nsauditor.com/downloads/nsauditor_setup.exe
About
NsaSoft US, LLC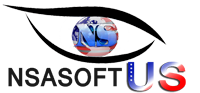 NsaSoft US LLC
was founded by a group of experienced network and security professionals with management of Mr. Varuzhan Kankanyan, a network and system engineer with more than 30 years of experience in the security research and development, telecommunications systems and networking fields. All the founders actively participate in engineering, production and marketing of our products. We are growing rapidly thus involving more and more talented people in our projects, generating new ideas, supporting existing products. We are building the company on a set of core values, and we are always looking for people who share our values and believe in our mission. NsaSoft US LLC. is a privately owned software company headquartered in Las Vegas, USA, specializing in network diagnostic and monitoring applications for businesses and end users. Today its products and custom solutions may be found in businesses all over the world, including a large number of Fortune 500 companies, as well as in thousands of smaller ventures. Nsasoft is a leading provider of Network Information and Security Utilities.
| | |
| --- | --- |
| | Nsauditor Network Security Auditor is a network security scanner that allows to audit and monitor remote network computers for possible vulnerabilities, checks your network for all potential methods that a hacker might use to attack it. Nsauditor is a complete networking utilities package that includes a wide range of tools for network security auditing, scanning, monitoring and more. The program includes more than 45 network tools for scanning, sniffing, enumerating and gaining access to machines and contains a built-in database of known network security vulnerabilities, which allows you to select the items for scanning and add custom entries. Nsauditor can reveal and catalog a variety of information, including installed software, shares, users, drives, hotfixes, NetBios, RPC, SQL and SNMP information, open ports. Reports can be generated in HTML and XML format. Overall, this is a very complete package for a surprisingly low price. |
| | |
| --- | --- |
| | Product Key Explorer recovers product key for over 3000 software, including Windows 7, XP, Windows Vista, Microsoft Office 2010, MS Office 2007, 2003, Exchange Server, SQL Server, Adobe CS5, CS4, CS3 and more than 2500 other products installed on your local or network computers. In order to install or reinstall Microsoft Office, Windows, or other commercial software, you must have access to a product key (CD Key) for that product. Product Key Explorer retrieves product keys from network computers and allows to protect your company from having pirated software on your network. With this software you will be able to track the number of software licenses installed in your business, find and recover a lost or forgotten product keys, save and keep an up-to-date backup of all your software product keys in a central location. Excellent tool for network administrators, or businesses undergoing a software license compliancy. |
| | |
| --- | --- |
| | SpotAuditor reveals passwords saved in Internet Explorer, recovers ICQ, Trillian, Miranda IM, VNC, Far ftp client, SecureFX ftp client, WebDrive Ftp, FTP Voyager, Smart FTP, AutoFTP, 32bit FTP, FTP Navigator, Deluxe FTP, Dial-up, Outlook and MSN messenger passwords, IE Auto Complete Fields and recovers passwords stored behind the asterisks in password text-boxes. It is a program for viewing and cleaning the secret data stored by Internet Explorer. SpotAuditor allows deletion of unwanted entries from the system protected storage and explores Outlook Accounts, Visited URLs, Installed Programs and Start Run Programs on a local machine or remote computers. SpotAuditor allows to clear Internet Explorer history, delete cookies and temporary internet files. You can recover and restore any lost or forgotten password ever entered in Internet Explorer. |
NetworkSleuth is a network file searching utility, that allows you to quickly locate files across a network. You can search for specific file names or for specific file types (e.g. all MP3 files).

Network Sleuth provides a lightning fast search engine and includes the ability to search hidden network resources, restricted access resources, IP subnets and much more. It comes with a built-in password manager to store your network logins for resources with restricted access.

NetworkSleuth can scan hidden resources and automatically login to restricted shares, using the provided login information. The found files can be copied, moved etc. just as if you were working with Windows Explorer. NetworkSleuth also enables you to schedule search tasks to be executed automatically. Additional features include result sorting, filtering, search within results, minimize to tray, scanning inside zip files and exporting of results to TXT, HTML and CSV format.
| | |
| --- | --- |
| | RemShutdown allows shutdown or restart network computers remotely. You can specify a delay during which a message you specify can be displayed and applications running on the remote computer at the time of shutdown can be allowed to close. In addition, RemShutdown offers the user the option to cancel the shutdown. The tool is designed with a user-friendly interface and is easy to use. |
| | |
| --- | --- |
| | BlueAuditor is a wireless personal area network auditor and easy-to-use program for detecting and monitoring Bluetooth devices in a wireless network. It can discover and track any Bluetooth device within a distance between 1 and 100 meters and display key information about each device being detected as well as the services device provided. With the growing popularity of the Bluetooth technology, BlueAuditor will enable network administrators to effectively audit their wireless networks against security vulnerabilities associated with the use of Bluetooth devices. BlueAuditor enables the user to save the data of the detected Bluetooth devices in an .xml file and supports the most Microsoft Bluetooth drivers available on the market. All the mentioned features are provided with a user friendly graphical interface. |
| | |
| --- | --- |
| | It allows network administrators to monitor network shares and identify shares which are violating data access policy in their organization. NetShareWatcher is very handy. You can configure it once and forget about network sharing problems. You need just select restricted groups or users and every time when NetShareWatcher will find network share with access list containing that restricted groups and will perform an configured action. It allows you to easily monitor network shared folders and permissions. NetShareWatcher alerts anytime an user sets a share ACL to "Everyone" or some other global group that violates your data access policy as well as disable this shared folders automatically if you have selected appropriate feature in the settings. NetShareWatcher has user friendly interface and is easy to use. Being configured once, it will regularly notify you on network sharing detection with restricted permissions assigned. |
Follow Us
Testimonials
"Very broad collection of network audit tools. We think this is one of the best integrated network multi-tools we have looked at."
Awards
Support
Free 24 / 7 Support
Free Lifetime Upgrades