SNMP Auditor is a tool to scan a network and identify any nodes that are running an SNMP service. The Snmp Parameters contain:
IP Address - the IP address of the target host
Community - the Snmp Community
Object ID – the already registered object id
Timeout - the timeout interval
Retries – the number of probes
Description – description type
Params file – the file that contains Snmp parameters in XML format. To reload the file click on the Reload button.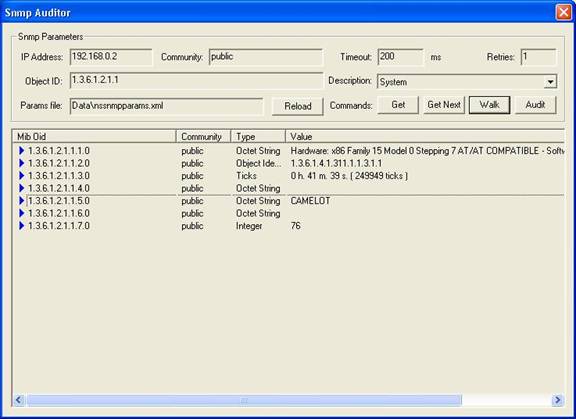 Here is the list of commands supported by Snmp Auditor:
Get - gets the first object parameters matching the selected object ID.
Get Next – gets the next object parameters matching the selected object ID.
Walk - walks through all nodes of the selected object ID.
Audit – starts the audit process of Community names.
To select one of the listed commands click on the appropriate button.
The results table will contain Mib Obid, Community , Type, Value.
Right- clicking on the results table brings up a menu with the following commands:
Save As – saves the data to the text file.
Copy All - copies all rows.
Close – closes the Snmp auditor.