A CD key ( on other words product key, activation key, key code, installation key, serial number ) is a specific software-based key for a certain program to identify that the copy of the program or game is original. Product key is a long series of numbers and letters that many software programs require you to enter during the setup process. Software activation is sometimes done offline simply by entering the license key, or with software like Windows XP online activation is required to prevent multiple people using the same key. We install a new software and then throw the CD box somewhere, along with them that piece of paper with the CD key on it. This product code is your license to install and use the software and is actually what you're paying for when you Ordering software. So what happens when you need to reinstall your software but you've lost the product key? In the event of a computer crash, you lose hundreds of dollars in software if you cannot find your product keys, with Product Key Explorer you can prevent losing your software investment and money.
Product Key Explorer is a powerful utility that can help you to recover lost serial numbers for over 200 popular products, including Microsoft Windows 2000, XP, Server 2003, Vista, Microsoft Office, etc. The software automatically recovers serial keys from local and network computers. Product Key Explorer enables network administrators to scan network computers and retrieve the product keys for a hundreds other software products. You can copy or print the license keys for backup purposes, recover forgotten CD keys and track the number of software licenses installed on your network. Product Key Explorer allows to protect your company from having pirated software on your network. With this software you will be able to track the number of software licenses installed in your business, find and recover a lost or forgotten product keys, save and keep an up-to-date backup of all your software product keys in a central location.
Product Key Explorer will be your best investment ever and the only thing you'll regret is not having registered earlier!
A single Product Key Explorer license costs $29.50, and may be Orderingd securely online a http://www.nsauditor.com/order.html
Free 15 days demo versions are available.
More information: http://www.nsauditor.com/product_key_finder.html
Download URL: http://www.nsauditor.com/downloads/productkeyexplorer_setup.exe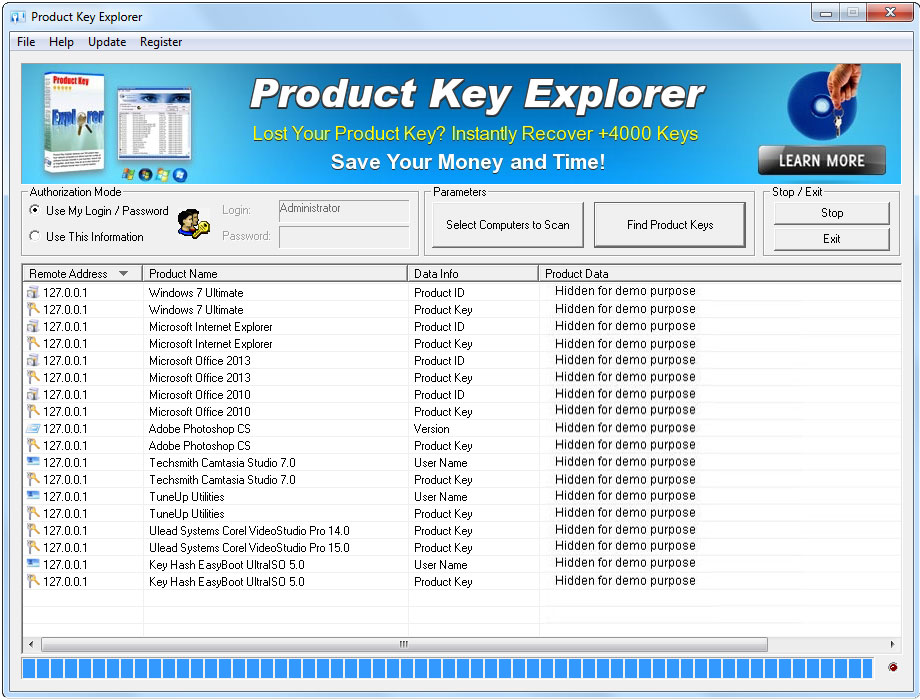 Frequently Asked Questions (FAQ)